Project QuickStats
| | |
| --- | --- |
| Location | Bella Vista, New South Wales |
| Cost | $13,163 |
| Stone Colour | 3mm Charcoal and 3mm Bundaberg |
| Total Area | 139 |
| Date Installed | 09-07-2020 |
Here's another great looking StoneSet decorative 'Overlay' Driveway which we installed 09-07-2020 over a Stamped Concrete driveway.
All up, applying StoneSet to this Driveway involved a 1 day install, covering 139 square meters of resin bound stone giving the exposed aggregate look, at an average depth of 16mm.
Decorative driveway
Looking to create something special out of the existing tired cream-stamped concrete patterns, our homeowner had been inspired by the artistic and creative potential of resin bound stone.
The images below show a sound existing driveway, but a rather drab utility than an expressive entrance piece.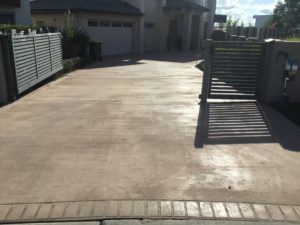 Expressing pride and the individual nature of your home with StoneSet is a trend being led by residents of the hills district in Sydney. Taking advantage of this relatively new and innovative way to harness the modern paving technology of binding loose stone with Polyurethane resin.
Creating these sweeping curve patterns is inexpensive because it is straightforward to shape a dividing border, and whether we mix one colour stone or another involves the same labour. So unlike the labour-intensive process of cutting hundreds of pavers to shape to create a curved border, the costs are affordable due to the inherent nature of it being to hand shape any one colour/mix of stone.
Especially for larger driveways, the costs, hassle and waste involved with removing existing paving and sending it to a landfill don't add up to your best decision. It is far quicker, easier, economical and environmentally friendly to use resin-bound stone for your driveway resurfacing with a paving option that is guaranteed to last!
If you would like more information on this particular Porous pavement project, don't hesitate to get in touch with us on 1300 392 155 and quote the job reference number VT6182, we would be more than happy to discuss similarities in your  Driveway project and we can fast track how StoneSet porous paving may suit your specific paving project.
Typically, there are many 'faux stone' solutions. The major appeal of StoneSet was the opportunity to resurface driveways rather than the cost of sending existing concrete to a landfill.
Example surfaces we have encountered on top of concrete driveway resurfacing.
Tiled driveways
Overcrete
Sandstone
Patchwork concrete
Asphalt
Bitumen driveway

Because StoneSet stone is versatile, the application can be made thicker for bases that are permeable or loose – for example, any below 'loose stone' or soil surfaces can be used as the base for a driveway topping with stone.
Deco Granite
Pebblecrete
Crusher dust
Road Base
Blue Stone
Crushed Rock