StoneSet Installation & Supplies
Permeable Paving Melbourne
StoneSet provides high-quality permeable paving solutions to Melbourne homeowners & businesses. Whether you need a new or resurfaced driveway, footpath, pool area or tree surrounds, we've got you covered.
Trusted by Melbourne Homeowners & Businesses
Durable & Sustainable Permeable Paving in Melbourne
As Australia's top installers of resin-bound permeable paving, we offer a wide variety of stone colors for highly durable driveways and footpaths with long-lasting surfaces.
Our porous material allows water to seep into the soil beneath without compromising the surface's sturdiness.
Get Started Today by Requesting Your Free Estimate
Discover our vast range of installation services.
Request a free estimate without any obligation.
Authorise your estimate and request a final on-site quote.
Accept your quote and set a start date for your project.
Our Permeable Paving Services
Durable & Resilient Driveways
We Help Build Permeable Driveways & Paths across Melbourne
StoneSet has developed hundreds of driveways in colours and styles to suit your individual taste.
Whether you're after a blend of stone or a custom design using an aluminium stencil, we can design something that meets your needs.
Our permeable driveways can be installed new or resurfaced over old concrete, terracotta tiles or even gravel. They're perfect for Melbourne's diverse range of weather, from being durable during the warmer seasons and assist with eliminating rain in the wetter months.
Simply provide us with your plans or photos and we can provide a completely free estimate.
Beautiful Paths into Your Home
Permeable Surfaces are Perfect For Paths, Patios & Pergolas too
We can match your new or existing driveway with our versatile permeable footpaths. More functional than concrete and requires less upkeep than a loose stone footpath. 
With a range of colours and style to choose from, you can match your existing landscape or bring something new to life with designs or patterns.
They're perfect for patios, pergolas and entertainment areas, too. No more worrying about the kids slipping or kicking around loose stones.
Our premium two-part resin, applied with the stone match of your choice, will bring your yard to life while remaining strong.
Get Started by Requesting a Free Estimate
Eco-Friendly & Functional
Permeable Surfaces Can Be Applied to Tree Surrounds to Make Them More Durable, too.
The options for permeable surfaces don't end there.
We work with landscapers and concreters across Australia to bring a more sustainable and environmentally friendly alternative to concrete to our customer's doorsteps.
We have customers using permeable paving for the below applications, too:
Tree Surrounds
Rooftops
Heritage buildings
Schoolyards and hard paving play areas
Car Parks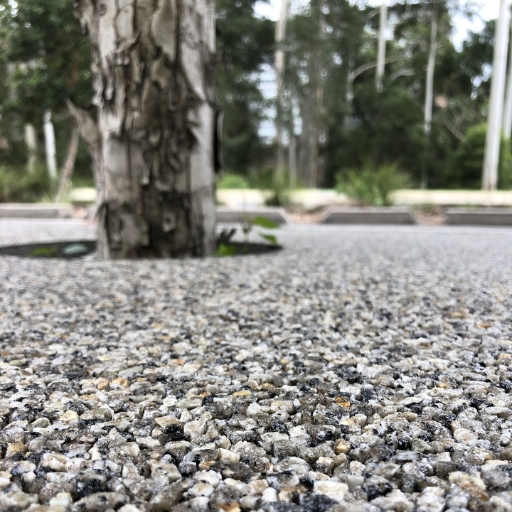 Decrease The Heat Under The Feet, with Permeable Pooled Areas
To beat the scorching hot surfaces that summer can bring to a concrete surface, our permeable pool surrounds are a fantastic option to reduce hot underfoot temperatures, as the resin & stone mix don't retain heat much like concrete does.
All while also practically eliminating surface-level slip hazards that other materials generally tend to have as water pools on the top. Our permeable pool surrounds absorb top-level water, automatically draining it back into the groudn 
Not Quite Sure What You're After?
Contact our professional team today to talk about your unique requirements. Our primary goal at StoneSet is to provide tailored solutions to each of our clients, so don't hesitate to give us a call and start the conversation.
Start with a Free Estimate?
Provide us with your project details, and we'll draw up a free estimate for you.