Premium Resin-Bound Gravel Binder
Choose your resin gravel binder based on the tone & colour of your current stone or gravel. Our clear colour enriches the pre-existing stone colour, while our amber is to add a shade of colour to lighter stone, providing an enhance ambience. 
Tones & Sizes to Meet All Projects
Two Stunning Gravel Binder Colours to Choose From
25% OFF
Gravel Binders |

Black

Friday
Use code: SETBFCM25 at checkout
$

389.00 With coupon:

$

291.75

$

99.00 With coupon:

$

74.25

$

599.00 With coupon:

$

449.25

$

159.00 With coupon:

$

119.25
Learn How to Correctly Pour Your Resin-Bound Gravel Binder
We've crafted our DIY products to be easy to use. That's why there's no surprise that our Gravel Binder pouring process is easy as 1-2-3. Watch our explainer video to learn how to pour like an expert.
Choose Your Resin Binder Colour & Size
What Do I Receive in My Order?
You'll receive either a 5kg or 20kg container of premium quality, resin-bound liquid, in either a clear or amber form, that's ready to be poured over your own stones or pebbles.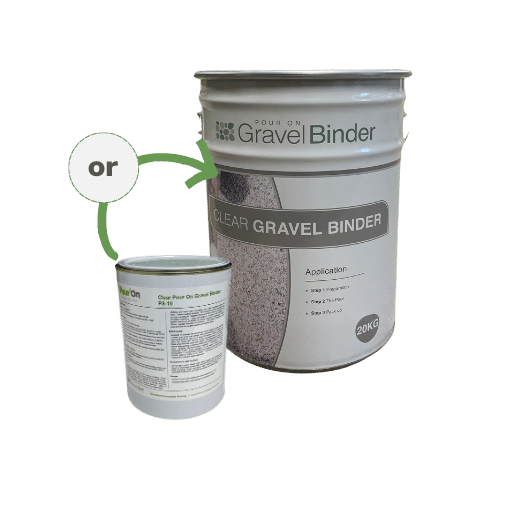 Clear vs Amber Comparison
Do You Prefer the Clear or Amber Resin Best?
Our Resin Gravel Binder Application Process
For best results, choose a binder that matches the color of your stone. Amber is recommended for dark shades, while Clear is best for lighter colors.
To get the best results, ensure the surface is dry, level, and clear of debris before starting work. Protect edges and surrounding areas with masking tape to avoid damage or imperfections.
Pour the resin binder evenly over your surface and smooth out with a tool. Allow to dry overnight before adding additional coats, if they're needed. Follow these steps carefully for successful application.
Learn More About Our Resin-Bound Gravel Binder
Frequently Asked Questions