Project QuickStats
| | |
| --- | --- |
| Location | Oatley, New South Wales |
| Cost | $20,095 |
| Stone Colour | 6mm Koonunga |
| Total Area | 125 |
| Date Installed | 17-09-2020 |
Sometimes, only the authenticity of natural Australian exposed aggregate will do.
As was the case for this neutral-themed contemporary home, nestled in the Sutherland enclaves of Oatley in NSW.
Bordering the tranquil banks of the Georges River – the inlet of water leading to botany bay in greater Sydney. Oatley is a wonderful spot to live if you love water views, without the hustle and bustle of yachts and ferries on Sydney Harbour.
Concrete Resurfacing Spray Paving
This relatively modern design was built around the year 2000 with an original plain concrete driveway. An immediate remedy to the bland grey of cement is to spray coat the surface with modern colour.
The below photos show the modern 'livid' colour spray coating was approximately 10 years old and had started showing cracking around the stairs. One can see the tyre wear marks from constant tyre sheer on the gradual bend of this shared driveway.
Before
After
There is essentially a two-part process to applying concrete spray coatings. First the existing concrete must be prepared, typically stripped back using a chemical etching agent like Acid.
Preparation removes much of the dirt and oils that can interfere with bonding the pigmented final coat to the concrete 'substrate'. At this stage, cracks are typically also chased / ground out and a reinforced filler is applied. Once the surface is clean the second stage of applying the actual UV stabilised pigmented coatings proceeds.
There is significant work involved here in first masking up all surrounding drains, garden beds etc. then applying the primer coat to the bare cement (which enhances the bonding) and consequently spraying the first and second coats, followed by one or two clear top sealer coats.
Can StoneSet Resurface Spray Coatings?
Absolutely! One of the main concerns from customers that have had spray-pave coatings is whether the 16mm resin-bound stone topping may not grab hold of their existing smooth, spray coating which has already sealed the concrete once can see the tyre wear marks on the pre-existing spray on coating which can result as soon as 3-5 years after its application.
De-lamination is an industry term that describes the cracks, tears and bald patches on an old, worn spray pave coated driveway. This is where 'lifting' occurs, typically when the hairline cracking and tyre sheer weakening leads to the seal being broken. this leads to the surface being far more susceptible to water ingress.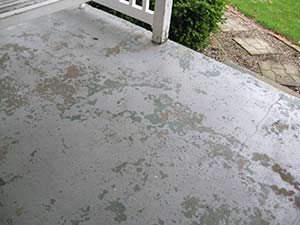 Over a while water works its way under the spray paving film to continue the lifting in the immediate surroundings resulting in pitting, peeling and scarring.
Spray coatings look fantastic when they are new and they are truly a great solution to quickly and cost effectively transform a modern homes' facade.
In highly exposed and trafficked areas however, as a thin film it is much more susceptible to wear and tear, typically 3-5 years after installation, depending on the amount of tyre friction, UV exposure and ground movement forming cracks.
Stone Driveway resurfacing
StoneSet is not so much a coating but a thick topping. StoneSet topping comprises a very high quality polyurethane resin mixed onsite with dry and well graded Australian quarried aggregate particles – in this case, the Koonunga stone.
Typically, a base preparation only requires removal of dust, which the StoneSet team manage with brooms and air-blowers at the start of the installation. The materials are then blended on site as per the StoneSet guide to ensure full resin coating of the stone and can be installed throughout the year.
This process has been tried and tested for more than 10 years across Australia.
Typically applied at a depth of 16mm, this ensures an approximate average of 3 layers of the 6mm stone bound together. This means if you took a cross-sectional cut at this top layer of StoneSet, there are roughly 3-4 stones, reaching from the bottom base and the top surface.
Durable Paving
Whilst many homeowners are familiar with the peeling and lifting, the fact each stone is coated with resin and binds equally to each other stone and the substrate/base. Here, there is not the same risk of peeling when multiple layers of stone are bound and locked int a solid matrix by the resin.
When you compare the 1-2mm thick coating of a Spray and Seal type resurfacing option to the 16mm thick layer of resin bound stone, it is intuitive. This is why StoneSet offers a solution guaranteed with no delimitation or loose stone for 10 years, with an expected design life of up to 25 years making it a higher value investment for the life of your property.
We describe the spray pave process at the start of the article, so as to demonstrate the vast difference between a 16mm stone topping and a thin spray on pigmented coating. Not only is StoneSet a thicker layer, but it offers more flexibility in the multiple number of bonds that form between the stone. Flexibility is achieved as some bonds can break whilst keeping the surface appearance similar.
Not only are the solutions chalk and cheese in terms of application, susceptibility to wear and even the warranty periods, but this modern residence was certainly becoming of a more authentic and beautiful, natural stone finish.
So if you are considering Sydney spray paving options, contact us now for an estimate on a durable natural stone solution or learn more about concrete resurfacing below.