Uplift Old Concreted & Paved Areas
Utilise old paving by making it the base for the next. Often an area of existing paving can become worn and patched up, even cracked without losing its structural strength and integrity. StoneSet can be used as a surface dressing to bring it back to life, looking better than ever.
Sustainable and Environmentally Friendly
Resurfacing Old Concrete with Premium Resin-Bound Stone
Looking to replace your cracked, stained or worn-out paving? Instead of replacing the paving, try resurfacing it instead. By choosing to resurface your old concrete pavement, you save time, and money, and reduce the amount of waste associated with the renovation – so it's eco-friendly too.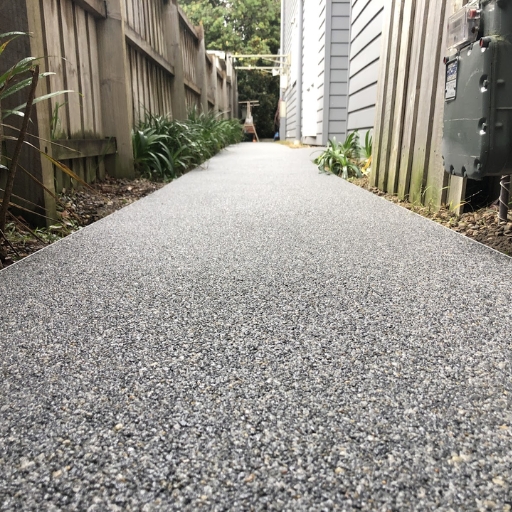 Multi Application Resurfacing
Resurface Concrete, Tiles & More
Often an area of existing outdoor paving can become worn and patched up, even cracked, without losing its structural strength and integrity. Our permeable resurfacing can be used as a surface dressing to bring it back to life, looking better than ever.
Due to our two-part polyurethane being flexible, we can resurface evenly over cracked areas, and be installed smoothly over pavers and tiles too. It's sustainable and cosmetically pleasing and comes in many colors and sizes, allowing creative designs with your new renovation.
Additionally, we can recreate logos, designs, and patterns incorporated into the surface to make it truly something unique.
Sustainable & Less Wastage
Green Paving Alternatives
By using an existing surface you can dramatically reduce the amount of raw material used to replace the paving as well as eliminate the waste being taken to landfill.

Using an existing impervious surface such as concrete doesn't mean that you can't fully use the porous nature of our permeable resurfacing products. By incorporating a drainage channel as a collection point the water can still be collected before reaching drains and returned to the water table or harvested on site for re-use.
By not having to remove any old product and taking advantage of a quick installation method, we can help bring a refurbishment in on time and on budget.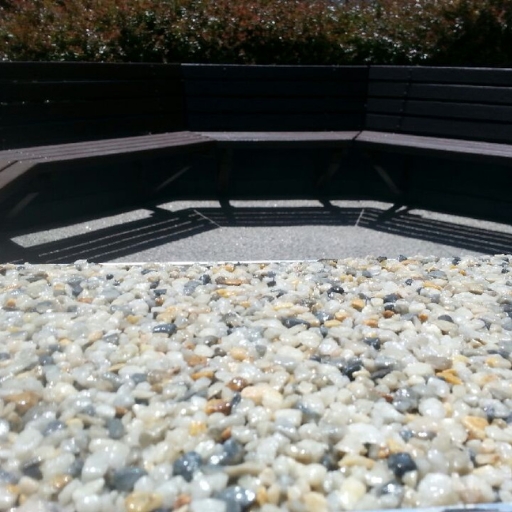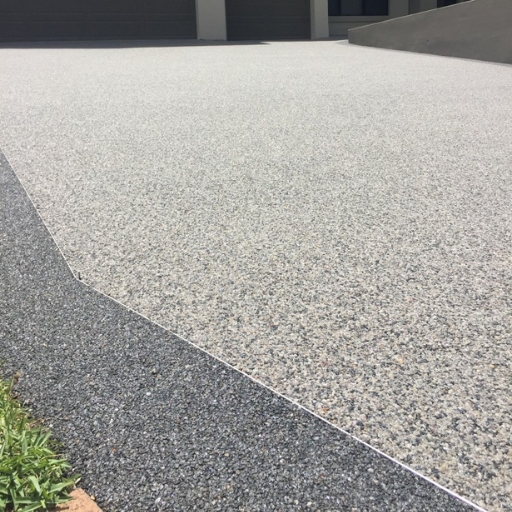 Breathe Life into Tired Surfaces
Optimise & Avoid The Erosion Cycle
Loose stone on a typical exposed aggregate driveway results from a cycle of erosion. The problem starts with one small stone, then gradually more and more is torn loose at this spot.
The pooling water together with continued tyre sheer / friction rips more and more stones loose. Resurfacing with a porous material like StoneSet avoids the erosion cycle entirely!
Water drains freely from the surface (Instead of forming puddles). Similarly, the sun's rays never reach the binder that holds the stone in place from below.
The Alternative Patio Paving Solution
The Advantages of Concrete Resurfacing
One of the biggest concerns when starting a new paving project is the cost. Paving from scratch can be quite expensive. However, resurfacing is much more cost-effective. If the original paving has become cracked and worn and needs replacing but is structurally fine, resurfacing can be a great choice. Putting aesthetically pleasing paving over worn or cracked existing areas can be a fantastic way to improve the overall look of the project at an affordable price. Because the amount of raw material needed for resurfacing is diminished, the cost is much lower, making the entire project more affordable.
Resurfacing is much more friendly on a project's time frame. The amount of work that it takes to lay paving over an existing surface is greatly reduced. This means that time can be freed up for other parts of a major renovation project, or that the project can be completed in a shorter amount of time. Resurfacing can be a perfect solution for jobs which need to be finished on a strict or quickly approaching deadline.
Reduce waste being hauled off to the landfill. This makes resurfacing more environmentally friendly than traditional paving methods. In addition, when using a porous product like StoneSet, water can be collected in a drainage channel and returned to the water table or used on-site. This makes good use of resources and can also benefit the project. Resurfacing is cost-effective, time-saving, and environmentally friendly. It is definitely worth considering for your next paving project.
StoneSet is built to last, where you're installing a new permeable driveway in Melbourne or Sydney. Not only do we use a high quality aggregate chosen from some of the best stone sources in Australia, but the aggregate is mixed with a unique, flexible resin. The resin is UV stable, which means our strong resin doesn't get soft when the weather gets warm, or crack when the weather gets cold. We work to ensure the best resin for your project based on the aggregate type and expected traffic.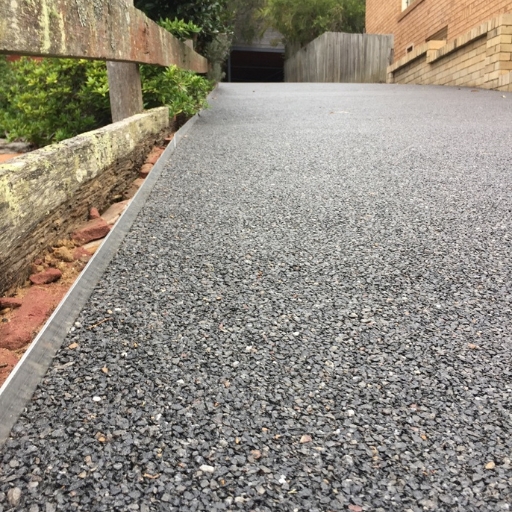 Resins Aren't Always Resins
When looking at binding a natural stone, the strength and longevity is all in the quality of the binder.
Soft-fall rubber (used in Children's playgrounds) typically use an 'Epoxy binder' which is certainly fit-for-purpose taking the weight of children's foot traffic. Whilst higher quality epoxy's certainly improve performance long term, they can never be as good as Polyurethane Binder.
StoneSet offer an industry leading 10-year guarantee of no loose stone, mainly due to the world-leading two-part polyurethane resin only StoneSet offers in the Australian market.
Colours, Designs & Patterns
StoneSet is also available in many colours and mixtures, which can be used for custom groundcover and pavement designs in hardscaping features for your clients.
Patterns are achieved using stencils and aluminum edging. One example of how we create a hard edge using the landscaping product link edge which is a popular choice for securing a hard edge over a porous road base.
Once StoneSet resin has dried, the adhesion between the stones and the link edge along the entire length is sufficient integrity to the edge of the driveway, particularly given the vertical aluminium outside edge protection.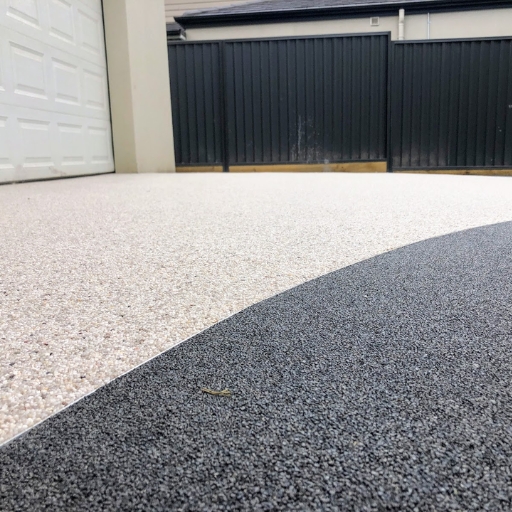 Learn More About StoneSet
Frequently Asked Questions
Although we may not be fully acquainted with the phenomenon that is urban heat island, we're all familiar with its effects – the change in temperature between the concrete jungle of the city compared to the rolling hills of the countryside.
Porous Paving can help reduce some of the heat island effect as some of the water that soaks into the ground subsequently evaporates. Called the wicking effect, this in turn cools the air.​
Reflect the heat with StoneSet's range of colours that enable you to select lighter coloured surfaces which absorb less heat, making the surface cooler to walk on and reduces the overall surrounding temperature.​
Keep rivers cool. S​urface run off from rainfall can lead to heating via conduction into local rivers which can greatly affect the ecological balance and harm fish and other organisms.
Allowing rainwater to soak back into the ground, rather than creating surface run off improves the health of surrounding rivers.
StoneSet provides a hard wearing useable surface that will not suffer in dry seasons and does not equire water for the installation.
StoneSet requires no water for the manufacture or installation, while other decorative stone surfaces require lots of water and can send toxins and cement into surrounding drains.
Water harvesting and passive irrigation are an integral part of water sensitive design. When rain water is unable to soak back into the ground, the earth becomes dry and trees and plants suffer as a result. In periods of drought the rainwater should be collected and held within the ground or harvested for reuse rather than channeled straight to the waterways.
Car parks and driveways can be turned into water harvesting areas. While roof tops have long been used to collect rain rainwater, so too can your hard landscaped areas. An added benefit is the filtration that can occur combined with the space saving of using an underground storage tank.
StoneSet's environmental credentials are as follows;
NATURAL STONE
StoneSet uses locally sourced natural aggregates. Compared with the embodied energy required to transport raw materials and fabricate other hard surfaces (such as kilns and mixing plants)
REDUCED LANDFILL
The majority of StoneSet applications involve an overlay topping or 'concrete resurfacing'. This is both economical and environmentally beneficial as the existing concrete base is not removed and sent to landfill.
REDUCED STORMWATER
StoneSet permeable driveways return water to the ground water table. Even an overlay results in a permeable concrete driveway where runoff can be channeled in sections to the side to reduce runoff.
NO SYNTHETIC DYES
As StoneSet uses natural stone, there is no use of chemical dyes – meaning no fading in colour from constant UV exposure. We also use less raw materials overall as the layer is porous with (air gaps) meaning lower amounts of raw materials, including our polyurethane binding resin.
ENVIRONMENTALLY AWARE
StoneSet supports Wires animal rescue and contributes towards being Carbon Neutral.
The Water Cycle "continuous movement of water on Earth"
Water soaking back into the ground is very important to recharge ground water creeks and streams, the process naturally filters the water providing cleaner healthier waterways.
Download our Concrete Resurfacing Brochure