Driveway Resurfacing
Imagine pulling into your driveway and being greeted by a fresh, rejuvenated surface that adds value and appeal to your home.
Concrete driveway resurfacing is a cost-effective way to achieve this transformation.
In this guide, we'll explore the process, materials, design options, and how to select the right professional service.
Short Summary
Concrete driveway resurfacing is an economical option for improving the look of your driveway while maintaining its existing material.
Professional driveway resurfacing involves filling and sealing any small cracks, applying a coating, levelling and smoothing the surface, with costs varying depending on the desired finish.
Regular maintenance & timely resurfacing are essential to maximising longevity. The expected lifespan can be extended up to 25 years with appropriate care & maintenance.
Understanding Driveway Resurfacing
Driveway resurfacing is a cost-effective solution for revamping the appearance of your existing concrete driveway while preserving the existing material.
This process involves applying a new layer of material, like concrete or a more environmentally friendly solution, such as permeable paving, to the existing surface, giving it a fresh new look and feel.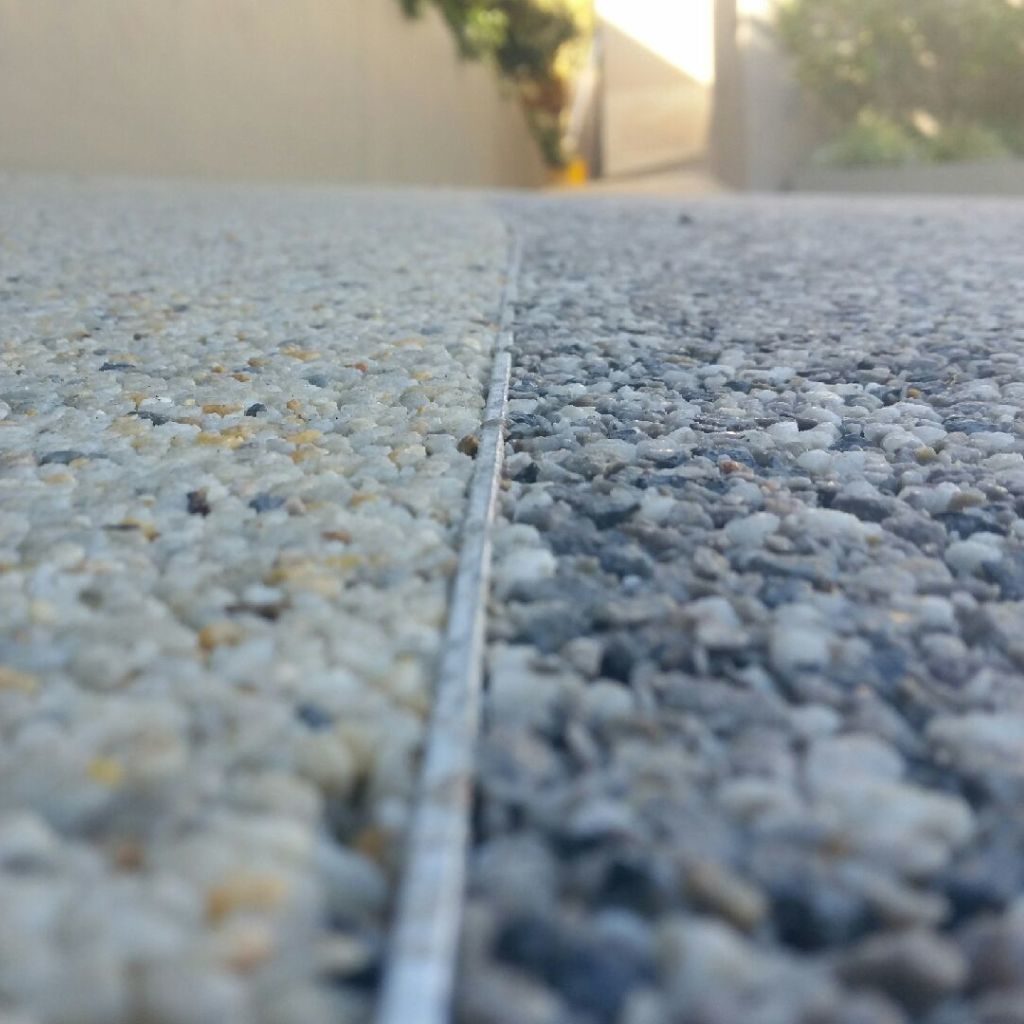 The Basics of Resurfacing
The process of concrete driveway resurfacing begins with filling and sealing any small cracks in the surface. Then, a new coating is prepared according to the desired specifications and applied by hand before being levelled and smoothed. The primer coat prepares the surface for the colour and texture coating and seals the original concrete.
Benefits of Driveway Resurfacing
Resurfacing a driveway improves its appearance and facilitates its maintenance, making it a cost-effective solution to restore its look. Some of the main advantages of resurfacing are:
it contributes to the overall aesthetic of your home
allows flexibility in colours and designs
can increase the property's appraisal price
creates a positive first impression for visitors
Concrete resurfacing is particularly advantageous due to its durability, versatility, and cost-efficiency, but it's far from your only choice.
Choosing a permeable driveway overlay grants you all of the advantages of concrete while additionally giving you a larger colour & style range to choose from while also remaining environmentally conscious. Some of the key benefits of permeable driveway resurfacing include:
Reduces runoff and erosion
Improves water quality
Helps prevent flooding
Saves money on drainage systems
Is both slip & UV resistant
It can be installed on stairs, slopes, and uneven terrain
Both concrete and permeable resurfacing can be applied to driveways, patios, pathways, pool surrounds, and more, offering a variety of stencil patterns and colour options.
Is it better to resurface or replace a concrete driveway?
When it comes to concrete driveways, resurfacing is the most cost-efficient way to make your driveway look brand new.
Resurfacing can revitalise and extend the life of an existing driveway, but if the driveway has significant damage or is too far gone for resurfacing, then complete replacement may be necessary.
In general, it is better to resurface a concrete driveway rather than replace it. Resurfacing is a cost-efficient option that will make the driveway look brand new while providing long-term durability and longevity.
Assessing the condition of the driveway before making a decision will help determine whether resurfacing or replacing it is the more suitable option.
Factors to Consider
Before embarking on a concrete driveway resurfacing project, it's essential to consider factors such as the age and condition of the current driveway surface, the occurrence of cracks and potholes, and the type of material best suited for resurfacing.
By addressing these factors, you can ensure the success of your project and the longevity of your refreshed driveway.
Choosing the Right Material for Your Driveway
Selecting the appropriate material for your driveway resurfacing project is crucial for its success and longevity.
Common materials used for resurfacing include concrete, asphalt, gravel, pavers, and permeable paving, each offering unique advantages.
Concrete, for instance, is known for its durability, versatility, and cost-efficiency.
Asphalt & gravel, on the other hand, are economical choices that are simple to install and maintain and resist cracking.

Permeable driveways

are advantageous in areas with high precipitation, as they facilitate rapid water drainage and reduce the likelihood of flooding.
Ultimately, your choice of material will depend on your specific needs, preferences, and budget.
Concrete Resurfacing
Concrete resurfacing involves applying a thin layer of custom-mixed concrete with bonding agents to an existing surface, forming a reliable and solid surface with a fresh look and feel.
This process requires grinding the existing concrete surface in preparation before applying the new layer.
The advantages of concrete resurfacing include its impressive durability, resistance to most toxic chemicals and substances, and cost-efficiency.
Asphalt Resurfacing
Asphalt resurfacing entails removing and replacing the top layers of existing asphalt with a new surface, typically 1-2 inches thick, to extend the lifespan of a driveway or parking lot for up to 8-15 years.
This process enhances the aesthetic appeal and prolongs the life expectancy of the driveway while decreasing the likelihood of potholes and other surface damage.
Permeable Resurfacing
Permeable resurfacing is a type of paving that allows water to permeate, reducing runoff and helping to prevent flooding.
It is an efficient solution for upgrading existing concrete surfaces and is particularly beneficial in areas with high precipitation.
When selecting permeable resurfacing, evaluating factors like the type of material employed, the associated cost, the installation process, and the maintenance requirements is crucial.
Alternative Materials
Eco-friendly alternatives for driveway resurfacing include permeable pavers, crushed concrete, natural stone pavers, gravel driveways, grass pavers, and recycled plastic driveway grids.
These materials offer unique benefits, such as sustainability, durability, and versatility in creating various designs.
By considering alternative materials, you can make an informed decision that best suits your needs and preferences.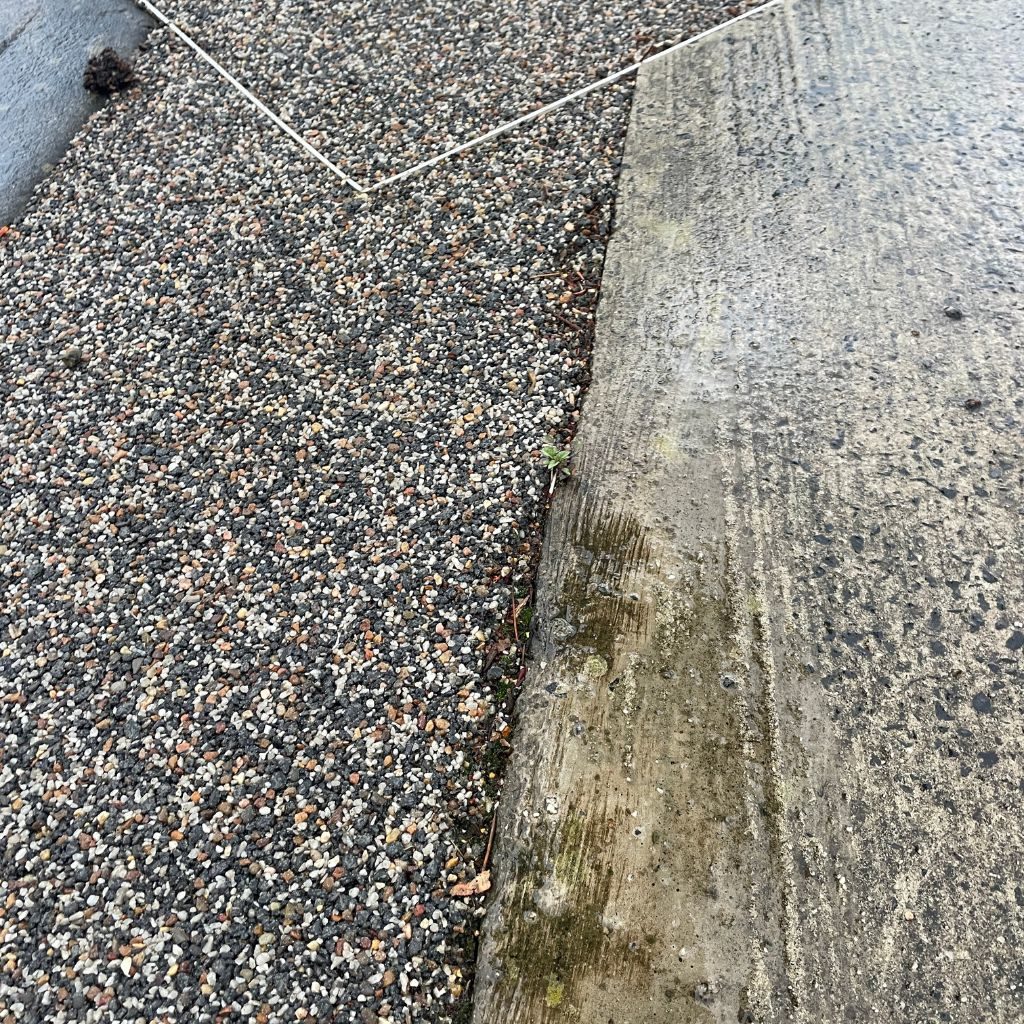 Customising Your Driveway Design
Personalising your driveway's appearance can significantly enhance its appeal and add character to your property.
Driveway resurfacing offers various customisation options, such as textures, patterns, and colours, to create a unique look tailored to your preferences.
Textures and Patterns
Textures and patterns available for driveway resurfacing include stamped, coloured, resurfaced, scored, or engraved concrete with a variety of decorative styles and themes.
These finishes can add texture, colour, and depth to the surface while being produced promptly and cost-effectively.
You can create a distinct aesthetic that sets your driveway apart by incorporating different textures and patterns.
Colour Options
Driveway resurfacing provides a wide selection of colours to choose from, ranging from dark and inky bluestone, earth-toned shades like brown, tan, and sandy beige, to various colours for newly resurfaced concrete.
With many colour options, you can create a personalised aesthetic that complements your home's exterior and surrounding environment.
Combining Design Elements
To achieve a truly unique look, consider combining various design elements such as colour, texture, and pattern in your driveway resurfacing project.
By incorporating a mix of these elements, you can create a distinct aesthetic that enhances the appearance of your driveway and offers protection from wear and tear, potentially reducing the cost of resurfacing.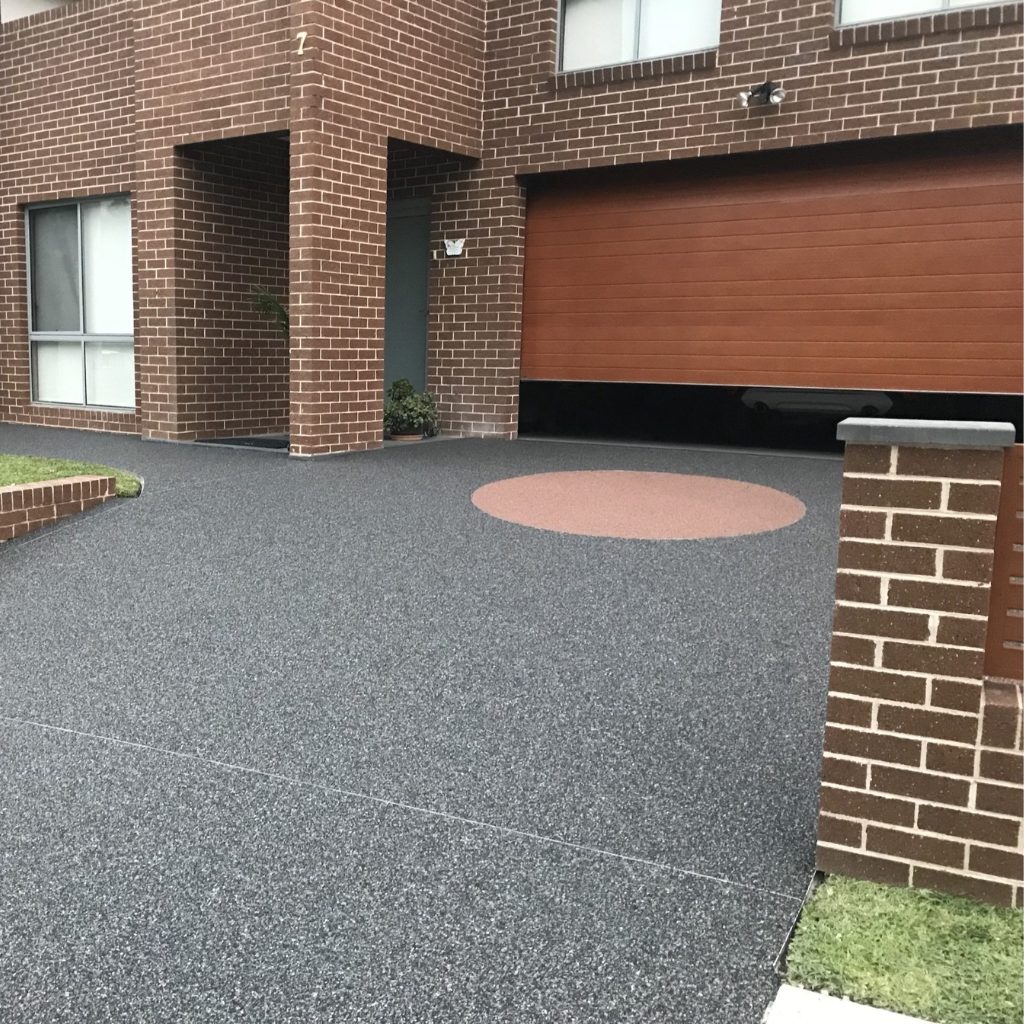 Selecting a Professional Driveway Resurfacing Service
Choosing the right professional service for your driveway resurfacing project is crucial to ensure its success and longevity.
When selecting a provider, consider factors such as experience, reputation, pricing, transparency, and customer support and satisfaction.
By considering these elements, you can confidently choose a service provider that meets your needs and delivers quality results.
Experience and Reputation
A service provider's experience and reputation are vital in selecting a professional driveway resurfacing service.
An established provider with a proven track record of quality work and customer satisfaction is more likely to deliver the desired results.
To evaluate a company's experience, consider the number of years they have been operational, the variety of projects they have completed, and the feedback they have received from prior clients.
Assessing a company's reputation in the industry through reviews, awards, and accolades can also provide valuable insight into their performance.
Pricing and Transparency
Pricing and transparency are essential factors to consider when selecting a professional driveway resurfacing service.
Obtain a quote from the company and compare it with other companies in the area to ensure that you receive the best value.
The cost of driveway resurfacing may vary depending on the condition of the driveway and the type of material utilised.
Ensure that the company is open and honest about their pricing, services, and any additional fees.
Customer Support and Satisfaction
Customer support and satisfaction should be a top priority when selecting a professional driveway resurfacing service.
A company dedicated to superior workmanship and customer service is more likely to meet your expectations and deliver a successful project.
Assessing reviews and ratings of the company online can provide valuable insight into customer satisfaction and help you make an informed decision.
Driveway Resurfacing Maintenance and Longevity
Proper care and maintenance are essential for extending the lifespan of a resurfaced driveway.
By taking the necessary steps to preserve its condition, you can ensure that your investment lasts many years.
Be vigilant in monitoring signs of wear and consider re-resurfacing when necessary to maintain the appearance and functionality of your driveway.
Expected Lifespan of Resurfaced Driveways
With appropriate upkeep, a resurfaced driveway can be expected to last up to 25 years.
Factors influencing the longevity of a resurfaced driveway include the quality of materials employed, climatic conditions, and the amount of traffic experienced.
By performing regular maintenance and care, you can prolong the lifespan of your resurfaced driveway and enjoy its benefits for many years to come.
Signs of Wear and When to Consider Re-Resurfacing
Keep an eye out for signs of wear and tear on your resurfaced driveway, such as cracks, potholes, chips, uneven surfaces, and discolouration.
If these issues become too severe and compromise the safety and functionality of your driveway, it may be time to consider re-resurfacing.
Regularly monitoring the condition of your driveway and addressing any issues promptly will ensure its long-lasting performance and appeal.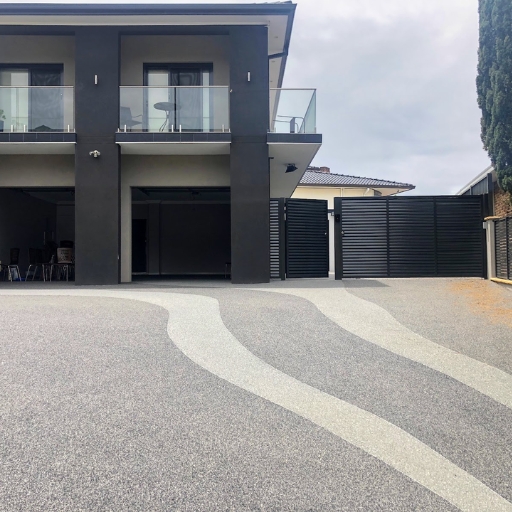 Summary
In conclusion, driveway resurfacing is a cost-effective and versatile solution to revamp the appearance and functionality of your driveway.
By understanding the process, selecting the right material, customising the design, and choosing a professional service, you can transform your driveway into a beautiful and durable surface.
With proper care and maintenance, your investment in a resurfaced driveway will provide lasting benefits and enhance the value and appeal of your property.
It's important to work with a professional who is transparent and willing to work within your expectations and provide not only the upfront support you need but can address ongoing questions and maintenance.
If you'd like to consider making the change to a permeable driveway resurfacing, speak with the team at StoneSet or start with a fast & free estimate.